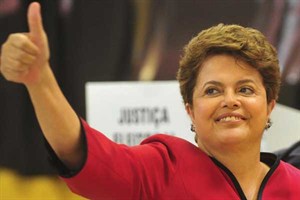 Dilma Rouseff goes down in history as Brazil's first female president. Today, less than 8% of the world's leaders are women. Counting the president, the group is made up of just 18 heads of state or government and includes names such as German Chancellor Angela Merkel and Argentinian President Cristina Krichner.  
"Eighty years ago, Brazil banned women from voting. So having the first female president is another step towards maturity in national politics. Another important aspect is to encourage girls, young women and women to take their place in the Executive, Legislative and Judiciary branches," comments ELAS general coordinator Madalena Guilhon.
The concentration of male power has slowed the entry of Brazilian women into politics. It wasn't until 1950 that Brazil's first female federal deputy was elected. In 1990, the first female senator came to power and, four years later, the first female governor.
"In the chronology of women in spaces of power and decision-making, 2010 marks a symbolic break with a centuries-old tradition of political exclusion. In the light of the political empowerment of women - made fifteen years ago as a global commitment at the Fourth Conference on Women - Brazil is taking a fundamental step towards a new paradigm of gender and power, which has already been experienced in other Latin American nations," commented UNIFEM Brazil and Southern Cone Representative Rebecca Reichmann Tavares in a public statement.