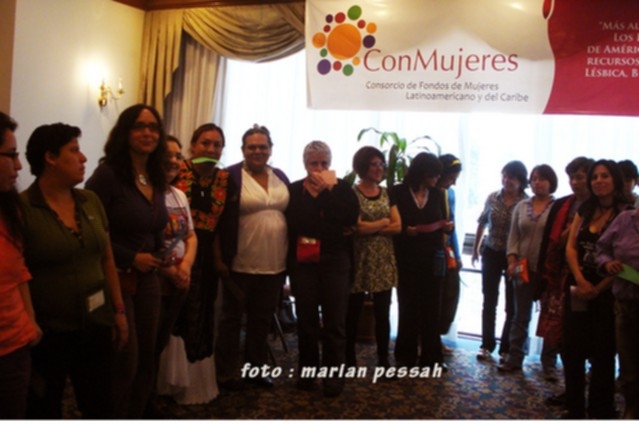 In October, the grantees through the LBT Project of ConMujeres (Consortium of Latin American and Caribbean Women's Funds) met in Guatemala to evaluate two years of activities. On this occasion, women from different parts of the Southern Cone had the opportunity to exchange experiences and share reflections.
"Participating gave us a different view of the movement in Latin and Central America than I thought we would find. I observed that in some aspects we are much more advanced than other countries, such as the construction of public policies, both regional and national," commented Rosangêla Castro, from the Felipa de Sousa Women's Group.
She also pointed out that the event was important for getting to know the shortcomings of the Latin Caribbean movement and realizing that the situation is also experienced in Brazil, such as internalized lesbophobia, racism, the lack of discussion of racial issues and the difficulty in discussing both bisexuality and trans issues.
"I felt the need to evaluate where we are talking about as feminists and which feminisms we are part of. I also thought it was very important to look at who funds us. Only with this exchange policy will we be able to get to know who we are, where we are, what we want and how we are going to implement the changes proposed in our projects," says Rosângela.
For Beth Fernandes, from the Transsexual Forum of the State of Goiás, the ConMujeres seminar was an important moment to renew her strength in activism and militancy. "By listening and meeting people and new forms of activism, I was able to renew my strength. Today I'm making plans and I've started thinking about new projects such as a gender depathologization campaign, in which we can see people without labelling them," she says.
Photos: Rebel Women