The organization black women Maria Mulher, from Porto Alegre (RS), won a lawsuit at the Ministry of Labor against a company in Rio Grande do Sul that discriminated against a black employee. The company was ordered to pay the costs of an advertising campaign for women's equality in the job market, as well as holding workshops for managers and employees on racism and gender inequality.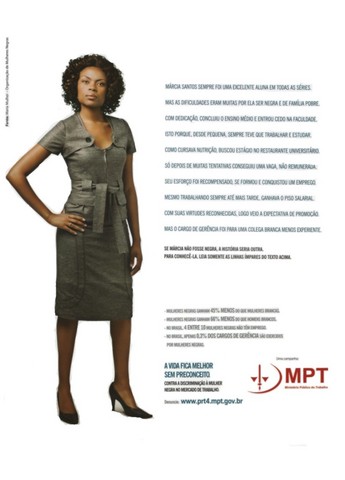 "We understand that if we only did training courses on race relations, we would only be affecting the company. The campaign, on the other hand, has a wider scope and reaches society as a whole," says lawyer and deputy coordinator of Maria Mulher, Letícia Lemos da Silva.
The advertising campaign, which will run for a year, includes billboards, bus billboards and posters, as well as other pieces that are being broadcast in local media, such as newspapers and TV. To develop the pieces, Maria Mulher had to work on raising awareness among the advertising agency.
"People close their eyes and find it hard to understand. Nobody sees themselves as discriminators," he says.
Since 2005, Maira Mulher has partnered with the Public Prosecutor's Office, forwarding complaints and also providing support in understanding issues related to discrimination against women black women.
"This campaign is an example of the fact that our job is not just to fight, but also to find partners. And one of those partners must be the state as a whole," he concludes.