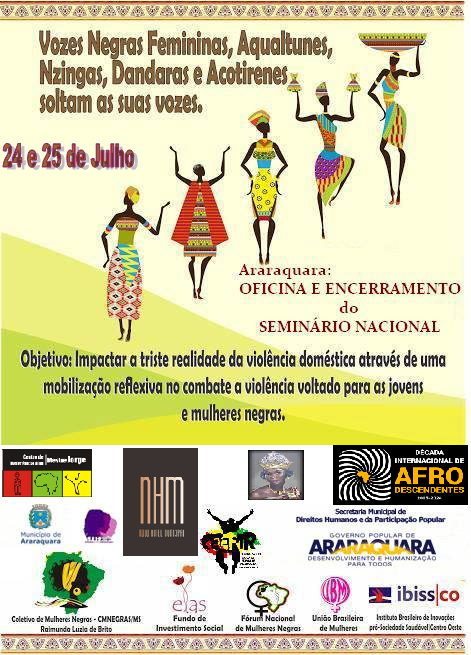 On July 24 and 25, the Collective of black women from Mato Grosso do Sul is holding the seminar "Black Women's Voices, Aqualtunes, Nzingas, Dandaras and Acotirenes let their voices out", in the city of Araraquara (SP). Aimed at discussing domestic violence against black women, the seminar is supported by the Elas Social Investment Fund through Fund FFearless Ale, a partnership with the Avon Institute that supports 31 projects across Brazil. The seminar concludes a cycle of workshops that the collective has held in 24 cities across Brazil's five regions.
The event is part of an intense nationwide agenda dedicated to the International Day of Black Latin American and Caribbean Women, celebrated on July 25. The 25th, however, is much more than a commemorative date: it is an international milestone in the struggle and resistance of black women against gender oppression, racism and class exploitation. Established in 1992 at the First Meeting of Afro-Latin American and Afro-Caribbean Women, the date was created to give visibility and recognition to the presence and struggle of black women in Latin America.
In Brazil, the date has also been the National Day of Tereza de Benguela and Black Women since 2014. Tereza de Benguela was a quilombola leader who lived in what is now the state of Mato Grosso, in Brazil, during the 18th century. Under her leadership, the black and indigenous community resisted slavery for two decades, surviving until 1770, when the quilombo was destroyed and its population killed or imprisoned.
Former senator Serys Slhessarenko, author of the bill that established the date, points out that in all of Latin America, only Brazil has yet to celebrate International Black Women's Day on July 25. "We need to create a symbol for black women, just like the Zumbi dos Palmares myth. Women lack black heroines to reinforce pride in their race and their history," she said when the law was passed.
In addition to the Collective of black women from Mato Grosso do Sul, various organizations and groups from black women are fighting and celebrating throughout Brazil. The Association of Quilombola Women of Capoeiras is also holding an event in celebration of the National Day of Tereza de Benguela and Black Women and for an end to violence against women. The event will take place on the 25th at the Bangu headquarters in Capoeiras/Macaíba (RN), starting at 11:30 am. The program includes a feijoada, talks and cultural performances. The event closes the project "Women in Action: affection yes, violence no!", supported by the Elas Fund through the Speak Without Fear Fund, in partnership with the Avon Institute.
Check out other events:
– Na quinta-feir