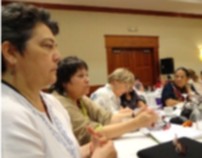 On May 4 and 5, a meeting was held in Managua (Nicaragua) between the funds that are part of the International Women's Fund Network (IWFN) and which are also part of ConMujeres (Consortium of Women's Funds in Latin America and the Caribbean). The meeting was also attended by representatives of Mamacash, the Global Fund for Women, the Urgent Action Fund and the Diaspora Fund.
The meeting brought together executive directors of the funds and professionals working in the area of programs. The agenda of the meeting included a presentation by AWID on the regional context of funding for women's human rights and the experiences developed in partnership between the organizations, such as funding for groups of young women, LBT and workers.
"These synergy spaces are very important because they enable the Funds to exchange experiences and learn from each other," says ELAS general coordinator Madalena Guilhon.