On January 26 in Rio de Janeiro, the winners of the 2010 Giving for change Awards were presented. The event brought together businesspeople, donors, grantees for the Fund and other guests at FIRJAN's headquarters. In the Corporate category, the night's winner was Lojas Renner. For Foundations and Institutes, the prize went to the Consulado da Mulher Institute. And Tânia de Almeida, donor of Casa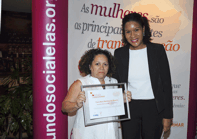 was the winner in the individual donor category.
Fersol, the Avon Institute and Angela Rodrigues, donor of Coturno de Vênus, also took part in the awards. The Award began with the receipt of material by post, the counting of information, the publication of each participant's profile on the website and a popular vote on the internet. The following were received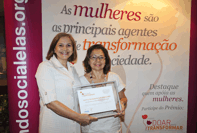 more than six thousand total votes. In this edition, the Award was supported by UN Women, the Federation of Industries of Rio de Janeiro, Chevron and the magazine Pequenas Empresas Grandes Negócios.