There were 31 projects supported by the Fale sem Medo Fund in an unprecedented partnership that covered 13 states in Brazil, in different areas of activity, all focused on ending domestic violence.
Below are three interviews with important activists involved in projects developed by the ELAS Fund in partnership with the Avon Institute (Speak Without Fear Fund), the Ford Foundation and the UN. They are examples of how important our partnerships are and how they can move the world around us.
Speak Without Fear Fund = Elas Fund + Avon Institute
Festival Roque Pense!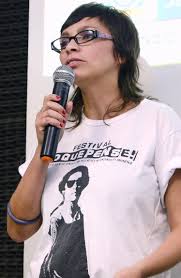 Giordana Moreira - Coordinator
ELAS - How important is the festival for local culture, the region and women?
Roque Pense (Rock Circuit of Bands with Women in the Baixada): In the Baixada Fluminense, culture is not seen as important for human development; on the contrary, it is almost seen as a privilege, both in terms of access and production. The stigma of being a violent and miserable region makes the media and the people reinforce the idea that there is nothing good here, nothing of quality, either to consume or to produce. Added to this, rock music is marginalized, very different from the capital, Rio. So a festival of this size is a challenge and an affirmation for producers, artists and the public, to prove that we know how to do things with quality and responsibility and that the dreams of young people should be respected.
There's also the fact that the festival was created to take place in a public square, to deconstruct this marginalization of rock music in the Baixada, a place where the occupation of public space is an issue of conflict between cultural agents and the authorities. In the Baixada, occupying public space is very tense, there is no democratic regulation for this occupation, there is a coronelist mentality and the understanding of local public managers is that of culture as an event. We maintain a permanent dialog to guarantee our rights, we participated in the creation of a forum, Recult, and we are part of the movements for cultural rights in the region. We are holding the festival because we are part of the scene, because the people who make culture here are the people of resistance.
In addition, there's the fact that rock and urban culture, all over the world, is
dominated by men, a reflection of macho society. It's a challenge to put on a festival of this size run solely by women. We still encounter resistance in decision-making environments and ignorance about sexism. It's important to build references, spaces, exchanges and open channels to debate and confront sexism in the world of music and culture.